The Band

The Music
Featured Article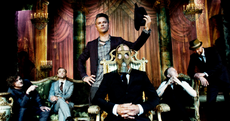 Kaizers Orchestra is a Norwegian alternative rock band, founded by Janove Ottesen and Geir Zahl in Bryne, Rogaland, Norway on 1 January 2000. The band consists of Janove Ottesen, Geir Zahl, Terje Winterstø Røthing, Rune Solheim, Øyvind Storesund, and Helge Risa. With their energetic live performances and critically praised recordings, they are amongst the most well-renowned and popular acts in their homeland, and have also gained international sccess and recognition. Their work spans a variety of genres, from gypsy punk to bluegrass to surf rock, and is constantly changing. The lyrical content of their material usually manifests as interconnected stories told through song. (More...)
Quote of the Moment
"Det finst ei trapp som går ner til en kjeller / Den er så trang at du må gå sidelengs / Og på veggen henger tjukt med bilder / av folk som har gått ner, men som ingen ser igjen"
— "Resistansen
News
14 June 2011

En for orgelet, en for meg, their sixth EP, was released in digital webstores on this date.

3 June 2011

"Tusen dråper regn", the first single from Violeta Violeta Vol. II was released as a digital download on this date.
Wiki News
2 June 2011

Kaizers Orchestra Wiki is created by AuronKaizer.
Helping Out
To write a new article, just enter the article title in the box below.
Languages